Announcements
Subscribe to posts
May 22 (Wed.) Posting Colors Service Hour Project  
  6:00 p.m.  Bluff City Cemetery
We have adopted a section of the Cemetery and we're to place flags on the graves of the servicemen buried there.  Takes about 1½ hours.  Wear uniforms.  Bring/wear mosquito repellent.  Our section is number 18 and is bounded by Cedar, Grove, Hill and Dell Aves.  You enter the cemetery through the East entrance, drive past the building and turn left on Fairlawn, right on Linden, then left on Dell. We'll be parked on Cedar.
May 29 (Wed.) Retiring Colors  
6:00 p.m.  Bluff City Cemetery
We will collect the flags.  Takes about ½ hour.
 This is a way of honoring our country and giving service – both are principles of Boy Scouting. Parents and brothers and sisters are encouraged to help. 
This year Troop 2 will be selling the popular 10" hanging baskets from Clesen's in South Elgin, our supplier for many years. You may sell baskets from today until Monday, April 15th 2019 when orders must be turned in. Collect the payment when the order is placed. Please pick-up your flowers on Saturday, May 11, 2019 between 8 a.m. and 10 a.m. at St. John's Church, 115 N. Spring St., Elgin, IL, in the gymnasium. See the handout for all the details and order forms and here is a document with 
sample pictures
 of the baskets.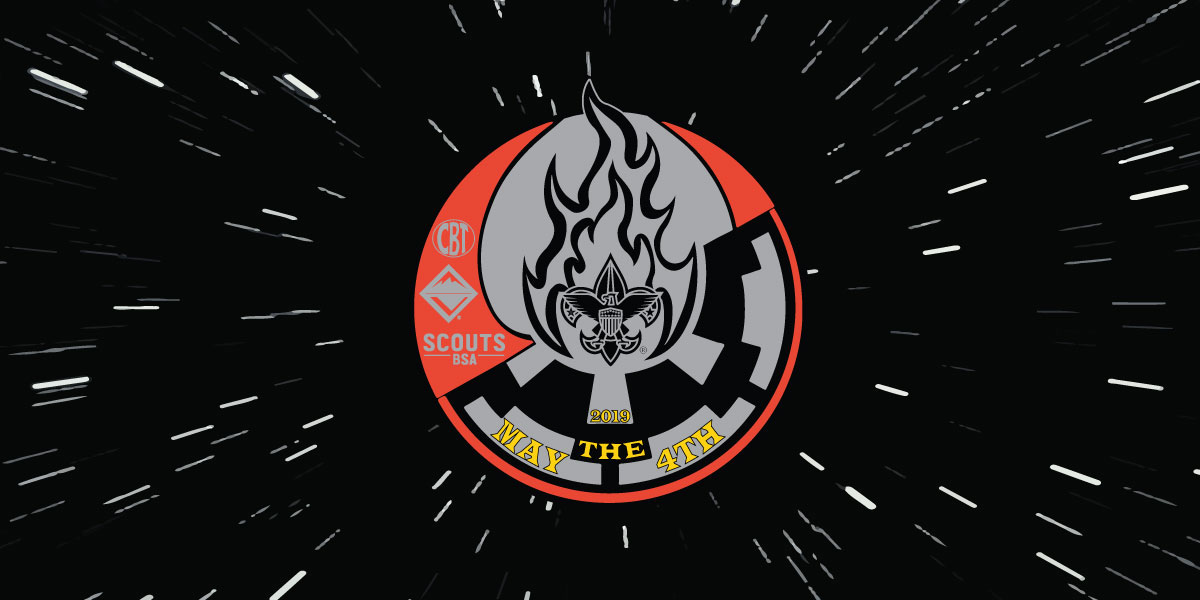 Join the Three Fires Council for an out of space adventure and fly into our brand new Lodge!
Handout
What:   Activities include; Imperial Blaster Range, EWOK Archery, Gargan Ball Launchers, EWOK Village Challenge, Mos Esle Space Port, Costume Challenge and more!
  Full costumes are encouraged
When:  Saturday, May 4, 2019 8-4pm
Where: Camp Big Timber
 37W955 Big Timber Rd
 Elgin, Illinois 60124
Cost:   $15/ Person or $20/Person for units camping
FIRST 300 Scouts to register get a STAR WARS METAL EARTH 3D Model Kit!  (a $12.95 value)
Camping is available Friday and Saturday evening. Space is limited.
Units camping are encouraged to help with a station
7 days of scouting adventure, fun, aquatics,

scout-craft

, more fun, shooting sports, sailing, ecology and conservation. OH! Did I mention LOTS'S OF FUN!
Summer Camp is where the scouting program comes ALIVE!
Located in NW Wisconsin, L.E. Phillips Scout Reservation is 
one of the top 5 Premier BSA Scout Camps in America. It 
is located on 1450 acres with 6 lakes and excellent camping 
facilities and a super program for all Scouts and Scouters.
All the scout information is contain in this packet!
A few other items of note:
WHEN: Sunday July 21st thru Saturday July 27th. 
Cost: Scout: $300 - $75 deposit is due Monday, March 25th

Balance of $225 due Monday, April 29th

Adult: $180 - Adult Scouter due Monday, April 29th

All Adults must have current BSA Youth Protection to attend Summer Camp!

It is ok to split a week with another adult

Adult training at summer camp will be offered: Scoutmaster specific training, 

Outdoor leaders skills training, aquatics supervision and others.
(includes T-shirt, transportation and more)
Welcome to the Electronics merit badge information page. During this merit badge at the 
March 2019 camp out
 we will:
Explore the function and symbols of electronic parts. 

Solve a problem using Ohm's law
Discuss test equipment: multi-meter, 

oscilloscope

 and logic analyzer.

Measure different values using a meter and oscilloscope.

Learn how to solder various parts.
When complete we should have an electronic circuit that flashes an LED.
Read through the BSA Electronics pamphlet.
Get a blue card from your Scoutmaster.
Print the merit badge workbook.
Electronics merit badge requirements

1. Describe the safety precautions you must exercise when using, building, altering, or repairing electronic devices.

2. Do the following:

a. Draw a simple schematic diagram. It must show resistors, capacitors, and transistors or integrated circuits, Use the correct symbols. Label all parts.
b. Tell the purpose of each part.

3. Do the following:

a. Show the right way to solder and desolder.
b. Show how to avoid heat damage to electronic components.
c. Tell about the function of a printed circuit board. Tell what precautions should be observed when soldering printed circuit boards.

4. Do the following:

a. Discuss each of the following with your merit badge counselor:

i. How to use electronics for a control purpose
ii. The basic principles of digital techniques
iii. How to use electronics for three different audio applications

b. Show how to change three decimal numbers into binary numbers and three binary numbers into decimal numbers.
c. Choose ONE of the following three projects. For your project, find or create a schematic diagram. To the best of your ability, explain to your counselor how the circuit you built operates.

i. A control device
ii. A digital circuit
iii. An audio circuit

5. Do the following:

a. Show how to solve a simple problem involving current, voltage, and resistance using Ohm's law.
b. Tell about the need for and the use of test equipment in electronics. Name three types of test equipment. Tell how they operate.

6. Find out about three career opportunities in electronics that interest you. Discuss with and explain to your counselor what training and education are needed for each position.
October 2018 will be a Wilderness Survival campout.
Wilderness Survival merit badge requirements

Do the following:

a. Explain to your counselor the hazards you are most likely to encounter while participating in wilderness survival activities, and what you should do to anticipate, help prevent, mitigate, or lessen these hazards.
b. Show that you know first aid for and how to prevent injuries or illnesses that could occur in backcountry settings, including hypothermia, heat reactions, frostbite, dehydration, blisters, insect stings, tick bites, and snakebites.

From memory, list the seven priorities for survival in a backcountry or wilderness location. Explain the importance of each one with your counselor.
Discuss ways to avoid panic and maintain a high level of morale when lost, and explain why this is important.
Describe the steps you would take to survive in the following conditions:

a. Cold and snowy
b. Wet
c. Hot and dry
d. Windy
e. At or on the water

Put together a personal survival kit and explain how each item in it could be useful
Using three different methods (other than matches), build and light three fires.
Do the following:

a. Show five different ways to attract attention when lost.
b. Demonstrate how to use a signal mirror.
c. Describe from memory five ground-to-air signals and tell what they mean.

Improvise a natural shelter. For the purpose of this demonstration, use techniques that have little negative impact on the environment. Spend a night in your shelter.
Explain how to protect yourself from insects, reptiles, bears, and other animals of the local region.
Demonstrate three ways to treat water found in the outdoors to prepare it for drinking.
Show that you know the proper clothing to wear while in the outdoors during extremely hot and cold weather and during wet conditions.
Explain why it usually is not wise to eat edible wild plants or wildlife in a wilderness survival situation.
The April 2019 Campout will be a Backpacking adventure to the Kettle Moraine state forest (northern unit) near Kewauskum Wisconsin.
See additional information for Backpacking below or contact 
Larry Mandelin
Welcome to the Robotics merit badge information page. During this merit badge we will explore general capabilities of robots, build and program robot and hold a competition between 2 to 3 teams.
Tasks
Read through the BSA Robotics pamphlet and workbook/notebook.
Read up on the general capabilities of robots and the instructions for building a robot. Chapter 1 in the SumoBot Manual and then pages 11-24 in the StampWorks Manual will help you get started understanding the programming.
Work completed at campout

Req 1,2, 3 and parts of 4 (notebook pages 1,2,3,4)

Req 1 add 1 more hazard
Req 3 needs you to find some pictures of the different fields of robotics 

Final code from campout posted below, you can install the Editor software below to view and edit this code.

Choose a task to complete for (notebook pages 5,6,7,8 & 9)

Task can be

Robot that stays inside the ring
Robot the tracks and follows objects
A full SumoBot
Robots that follows a black line

Notebook page 5 (pseudo code)

Draw a flow chart of how the control program works

Notebook page 6 (software code)

Include the software code and comment on what each section is doing

Notebook page 7 (code modifications)

Note and change you can make to the code to have the robot perform better

Notebook page 8 (final design)

Note any change you made to the design to improve the operation of the robot or of a subsystem such and the line sensor or IR detection

Notebook page 9 (potential for improvements)

Make notes for any future improvements that still can be done

Summarize the work above in Req 5
Research online and complete Req 6b & 7
Robotics merit badge resources
Sample Competition